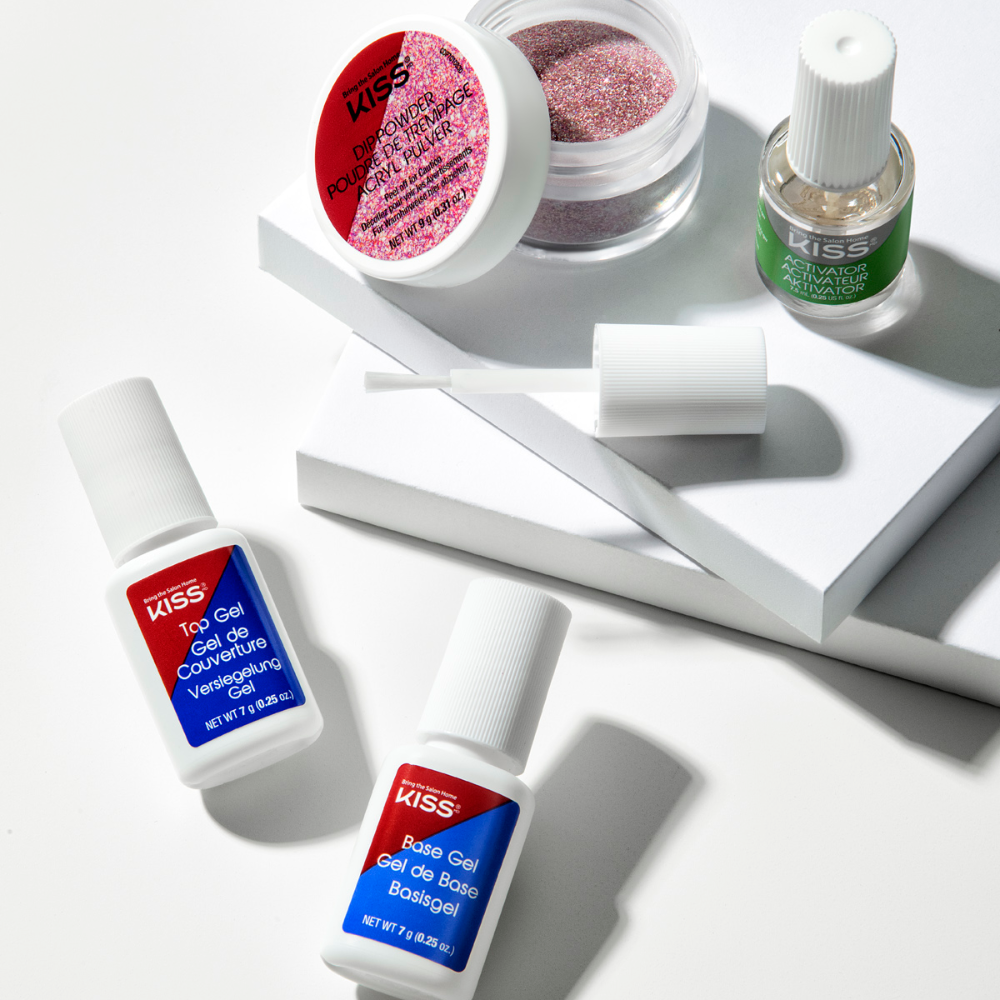 Salon Dip - Pink Glitter |KSDG01|
The Newest Trend in Salon Dip is Here! High Shine Sparkle, Just Dip & Bling! NEW Kit Features Pink Glitter Powder For A Sparkling Finish That Lasts For 2 Weeks Or More, With Endless Shine & Glitz! Find All You Need to achieve an easy and safe Salon Quality Manicure. Known to last twice as long as gel nail polish or acrylic nails, Salon Dip powder manicures involve dipping your nails into a pigmented powder, rather than painting on liquid or gel. The flawless results previously only achieved by professionals are yours when you DIY! No light curing lamp is needed. Easy Soak OFF - Compatible with KISS Quick Soak Off Removal System Starter Kit.
No UV Light Needed
Gentle On Nails
Easy Soak-O¬ff
Lasts 2 Weeks or More
PREPARATION:
Protect working surface with paper towels
Clean natural nails of any polish using acetone-based nail polish remover
Push back cuticles with Manicure Stick
Trim and file nails; lightly buff nail surface to remove surface oil
Remove dust; wipe nails clean with acetone polish remover or alcohol

HOW TO APPLY:
Pour Colour Dip Powder into Dip Tray using Manicure Stick
Avoiding skin and cuticle area, apply a coat of Base Gel over entire surface area of one nail. (Note: Remove any gel on skin with Manicure Stick.)
Immediately dip entire fingernail into powder by carefully sliding finger into Dip Tray. Shake off excess powder
REPEAT steps 2-3 on nine other nails
Gently dust off excess powder from all ten nails with Sponge included. One nail at a time, apply a second layer of Base Gel, WIPING BRUSH ONTO PAPER TOWEL IN BETWEEN EACH APPLICATION BEFORE PLACING BRUSH BACK INTO GEL BOTTLE, and then dip into Powder. Shake off excess powder
Avoiding skin, apply a generous amount of Activator to all ten nails
File to shape and buff smooth. Gently remove dust with Sponge
Avoiding skin, re-apply the Activator to all ten nails
Remove excess Activator by wiping nail surface with a dry paper towel (lint free)
Apply 2 even layers of Top Gel as you would top coat and let air dry for 5-10 minutes. Pour any remaining powder back into jar for future use

TIPS & TROUBLESHOOTING: For more coverage, add another layer of Base Gel and Powder after step 5 by dusting off nail surface with the Sponge, and apply an additional coat of Base Gel, (wiping bristles before placing back into bottle) and then dipping into the Colour Powder before repeating steps 6-10.
Use a light touch when applying Base Gel onto powder layer. Brushing too hard can pull off powder. If brush is not wiped off completely any Powder residue left on the nail will contaminate the Base Gel. Be sure to wipe brush onto paper towel in between layers before placing back into Base Gel bottle.
Any Activator residue on the nail can cause the Top Gel brush to harden during step 10. Be sure to thoroughly wipe off excess Activator with a dry lint free wipe before finishing with Top Gel.
In case Base Gel or Top Gel brush gets dirty, hard or gummy, use the Brush Softener to clean. Replace the Brush Softener brush with the dirty gel brush and lock the bottle. Let the brush stay in Brush Softener for 20-25 minutes. Take the brush out of Brush Softener Bottle and wipe it off. Place it back in the Gel bottle to use.
HOW TO REMOVE:
Buff off top layer to break the seal
Wrap nails in acetone soaked cotton ball with foil wraps until the dip layer is soft (about 15-20 minutes)
Gently remove softened overlay from the cuticle to free edge by using Manicure Stick
Wipe off any residue; repeat process as necessary
If irritation develops, discontinue use
BASE GEL: Ethyl Cyanoacrylate, Polymethyl Methacrylate, BHT - Made in Taiwan
ACTIVATOR: Acetone, Ethyl Acetate, Fragrance, Dimethyltolylamine, Water (Aqua), Violet 2 Made in USA
TOP GEL: Ethyl Cyanoacrylate, Polymethyl Methacrylate, BHT - Made in Taiwan
GLITTER DIP POWDER: Polyethylmethacrylate, Polyethylene Terephthalate, Benzoyl Peroxide, Polyurethane-33, Wate), Yellow 5, Red 34, Red 7, Aluminum Powder - Made in USA
BASE GEL & TOP COAT:
Bonds skin and eyes in seconds
Causes serious eye irritation
May cause respiratory irritation
Keep out of the reach of children

BRUSH SOFTENER:
Highly flammable liquid and vapour
Causes serious eye irritation
May cause drowsiness or dizziness
Keep out of the reach of children

ACTIVATOR:
Highly flammable liquid and vapour
Causes serious eye irritation
May cause drowsiness or dizziness
Keep out of the reach of children
Salon Dip - Pink Glitter |KSDG01|