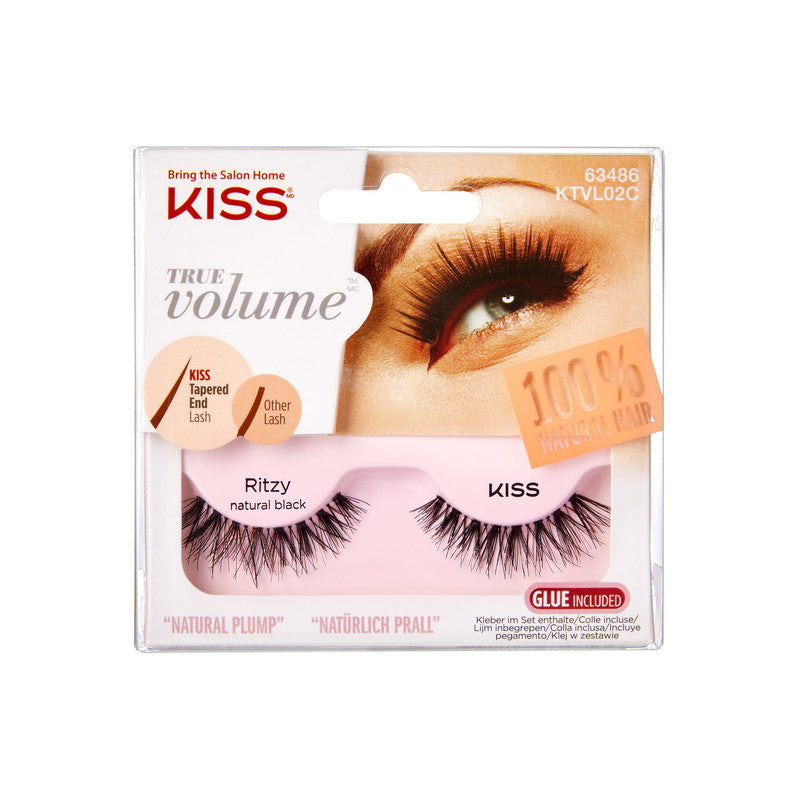 True Volume Lashes - Ritzy |KTVL02C|
Enviable volume that's 100% glam-worthy! Pumped-up effect false eyelashes are 100% natural hair that blend seamlessly with and look like your own, only fuller & longer!
RITZY features a flared crisscross pattern for that coveted wispy effect.
Tapered end technology for natural looking lashes that blend beautifully with your own lashes.
HOW TO APPLY:
Measure: Place false lash against your natural lash. Trim if needed
Prep: Apply the adhesive to lash band. Wait 30-60 seconds for adhesive to become slightly clear and tacky
Apply: Hold false lash along natural lash line, allowing adhesive to dry completely

HOW TO REMOVE:
Gently peel off lash strip, starting at the outer corner
Use oil-free makeup remover to remove excess adhesive from eyelid
IF IN EYES: Rinse cautiously with water for several minutes. Remove contact lenses if present and easy to do so.

IF ON SKIN: Wash with plenty of soap and water then gently peel apart. Seek medical attention.

Read directions for use carefully
Keep out of reach of children
Discontinue use if irritation occurs
Do not use if you are suffering from eye inflammation or conjunctivitis
Frequently Asked Questions
Q: HOW MANY TIMES CAN I USE THEM?
A: This is average and depends on how you take care of the lashes but you can re-use them up to 5 - 10 times.
True Volume Lashes - Ritzy |KTVL02C|