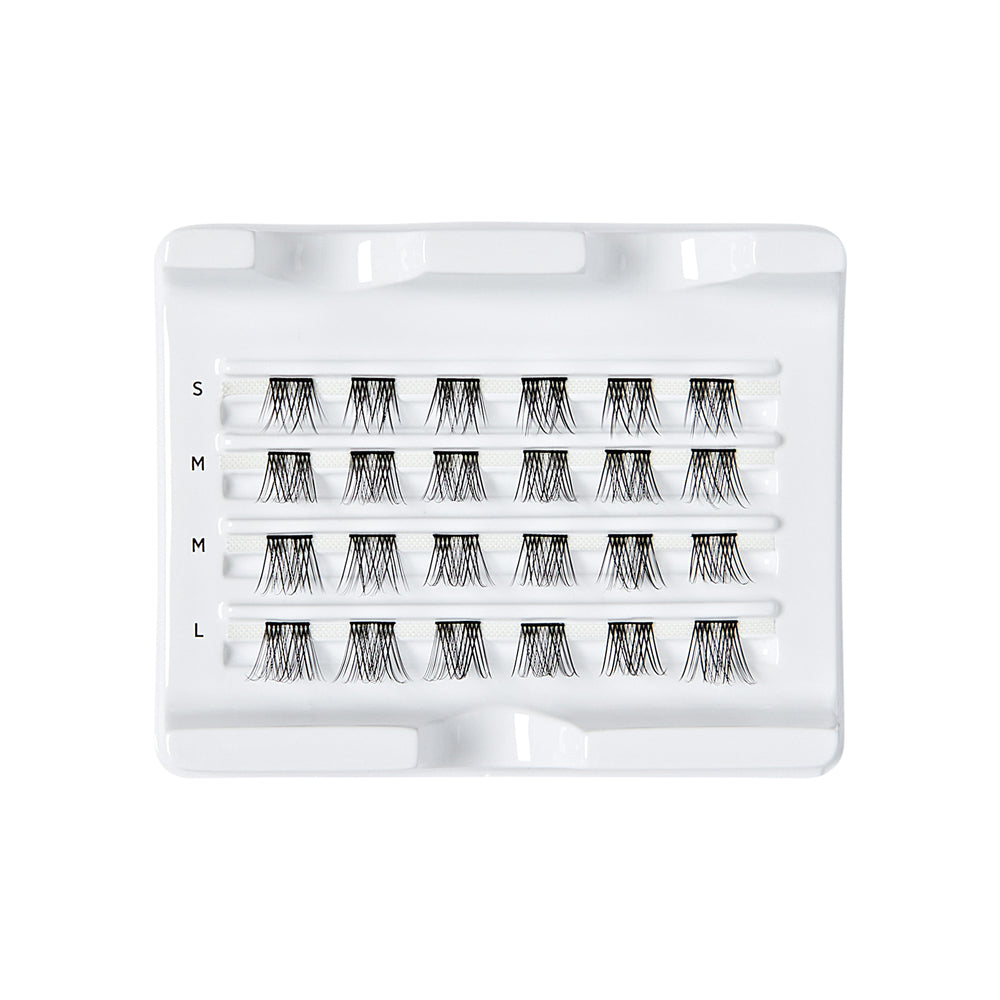 Falscara Eyelash Wisps - Lengthening |KFCM01|
WISPS: Easy to apply, comfortable, amazingly natural look. What's so unique about Falscara? Unlike traditional falsies, Falscara WISPS are tiny clusters of featherlight false lashes that go under your natural lashes, so the bands aren't visible. That's what makes them look so natural.
Value priced multipack with 24 wisps
Go subtle or super glam–WISPS are buildable & customizable
Wear WISPS up to 10 days with OVERNIGHTER Long Wear Sealer (not included)
Wisps-S: 10mm, M: 12mm, L: 14mm
NOTE: Bond & Seal, Applicator, Remover, and Overnighter (all not included) are sold separately and in FALCARA Starter Kits.
HOW TO APPLY:
Brush a light coat of BOND on natural lashes. A little goes a long way!
Use APPLICATOR to pluck a WISP from the tray. Pick up a WISP from the middle-outer end for optimal control. One by one, gently place the WISPS underneath the base of your natural lashes, slightly away from the waterline. Apply wisps starting from the outer corner of lash line, working inwards (or vice versa). Place WISPS right next to each other for a seamless look.
Dab a thin coat of SEAL under WISPS to eliminate any sticky residue and hold WISPS in place. Pro tips: If needed, after applying SEAL under WISPS, use the APPLICATOR or your fingers to squeeze the WISPS against your natural lashes; this helps the WISPS adhere for a more secure hold.

HOW TO REMOVE:
Saturate a cotton pad with Falscara REMOVER or oil-free makeup remover
Place pad over eyes for 10 seconds, then gently wipe or peel off WISPS and BOND & SEAL

HOW TO REUSE WISPS:
Place used WISPS on a paper towel, coat with Falscara REMOVER or oil-free makeup remover, then let sit for 10 seconds
Saturate a cotton swab with remover and gently wipe away BOND & SEAL residue from the WISPS. Store WISPS in original packaging
IF IN EYES: Rinse cautiously with water for several minutes. Remove contact lenses if present and easy to do so.

IF ON SKIN: Wash with plenty of soap and water then gently peel apart. Seek medical attention.

Read directions for use carefully
Keep out of reach of children
Discontinue use if irritation occurs
Do not use if you are suffering from eye inflammation or conjunctivitis
Falscara Eyelash Wisps - Lengthening |KFCM01|